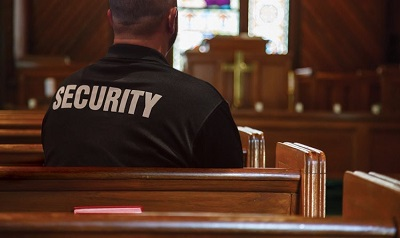 1 Chronicles 9:22-23 (ISV)
22 All these, who had been set apart as gatekeepers at the entrances, numbered 212 and had been enrolled
by genealogies in their villages.

David and Samuel the seer installed them in their positions of trust, 23 so they and their descendants were
in charge of the gates of the house of the LORD, that is, the House of the Tent, as guardians.

Mission Statement
The Greater Pentecostal Temple Security Team is a group of volunteers, "Guardians" (1 Chronicles
9:22-23), who are designated to provide safety and security to those who worship our Lord Jesus Christ
at Greater Pentecostal Temple Church
.
Our mission is to develop a strategic foundation of security and protection against known and unknown
threats to the church congregation and staff during regular services and special events. The security
team will establish and ensure effective guidelines are in place to secure tithes/offerings, special guests,
children's ministry, etc.




Strategy
Our Purpose
The Greater Pentecostal Temple Security Team will strive to meet or exceed all professional
expectations and obligations. We are honorably dedicated to achieving the mission of providing a
peace of mind to those that call Greater Pentecostal Temple Church their home.
The Vision
The GPT Security Team will cultivate and establish a worry-free and safe environment so those in
attendance can enjoy their worship experience.
---
Get Involved
Be a part of the Greater Pentecostal Temple Servant Leaders.
Contact Us
---
Program Facilitator